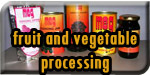 Fruit and Vegetable Processing
Tomato Ketchup
Select deep red well matured tomatoes, free from blemishes and insect damage.
Recipe:
Tomatoes - 6 kgs
Onions - 100 gms
Garlic - 5 gms
Cloves (long) - 2 gms
Cardamon (elaichi) - 2 gms.
Black Pepper - 1 gm
Cinnamon (dalchini) - 5 gms.
Cumin (jeera) - 2 gms
Salt to taste.
Red Chilli Powder - 5 gms.
Acetic Acid - 10 ml.
Sodium Benezoate - 1 gm
Preparation:
Cut the tomatoes into small pieces and boil in an aluminum pan till they become soft, then pass the boiled tomatoes through a fine bamboo sieve to obtain a clear pulp free from skin and seeds. Boil the pulp again along with the required quantity of sugar and dip ground spices tied in a muslin cloth while boiling and remove when the ketchup is ready and add salt towards the end of boiling.
When the ketchup is ready add the required quantity of Acetic acid and stir properly followed by Sodium Benezoate, stir and keep in air tight container.