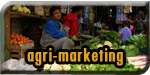 Agriculture Marketing
Agricultural Marketing in India
Agricultural Marketing continues to be the mainstay of life for majority of the Indian population. It contributes around 25% of the GDP and employs 65% of the workforce in the country. The Government of India under the ministry of agriculture has also set up specific commodity Boards and export promotion council for monitoring and boosting the production,consumption,marketing and export of various agricultural commodities. Some of these organisations /boards are Cotton Corporation of India (CCI), Jute Corporation of India (JCI), Tea Board, Coffee Board, Spice Board, National Horticulture Board (NHB), National Agricultural Marketing Federation (NAFED), Agricultural Products Export Development Authority (APEDA), etc.
Most agricultural commodity markets generally operates under the normal forces of demand and supply. However, with a view to protect farmer's interest and to encourage increased production, the government also fixes minimum support price (MSP) for some crops like Paddy, Wheat, Jute etc. as public policy instruments.
The government also promotes organised marketing of agricultural commodities in the country through a network of regulated markets. There are 7161 Wholesale Regulated Markets in the country as on 31.3.2001. Besides, there are also 7293 Wholesale Markets and 27,294 Rural Periodic.
For more information visit
Directorate of Marketing and Inspection
The advent of regulated markets Regulated markets have helped in mitigating the market handicaps of producers/sellers at the wholesale assembling level. But, the rural periodic markets in general, and the tribal markets in particular, remained out of its developmental ambit. It was envisaged that physical markets with facilities and services would attract the farmers and the buyers creating competitive trade environment thereby offering best of the prices to the producers/sellers. Presently, about 23 Agricultural Produce Market Acts are in force in various States and UT in the country for enforcing and facilitating organised agricultural marketing functions. Besides in most States, there are a number of rural primary markets (Hats) which serves, on an average, an area within a radius of 8-16 KM. The secondary assembling market serves, on an average, about 500 Sq.Km.
Agricultural Marketing in North-East India
Distribution of Wholesale Assembling Primary and Regulated Markets in NER
Sl. No.
State
No. of Wholesale Markets
No. of Rural Periodic Markets
Total
No. of Principal Regulated Markets
No. of Sub-yard
Total
1
Assam
172
650
822
16
19
35
2
Arunachal Pradesh
-
50
50
-
-
-
3
Manipur
20
49
69
APMC Act Not passed
4
Meghalaya
101
82
183
2
-
2
5
Mizoram
8
35
43
-
-
-
6
Nagaland
16
80
96
-
-
-
7
Tripura
84
554
638
21
-
21
Total
401
1500
1901
39
19
58
Source :
Directorate of Marketing and Inspection, Ministry of Agriculture, Govt. of India
The North Eastern region comprising of the above 7 (seven) States are characterised by hilly terrain, tribal population and shifting cultivation (jhum). Agriculture in the region is practised by predominantly small and marginal farmers who generally follow the traditional methods of agriculture resulting in low productivity. The situation is further aggravated by the lack of proper marketing and services, lack of adequate roads and transport facilities, lack of processing units, lack of organised marketing structures along with other factors have caused great inconveniences to the farmers who are compelled to dispose off their produce often at uneconomical and uncompetitive prices.
In most of the rural markets, facilities are either not available at all or not adequate. The primary markets in Assam, Meghalaya and Tripura do not even have basic infra structural facilities and are in fact mere meeting place for buyers and sellers. By and large, these markets are owned and managed by local bodies which rarely pay any attention to their development.
The important component of infrastructure necessary for growth of agricultural marketing are communication/ transport and storage facilities are utterly deficient. Almost 58% of the villages in the region do not have proper link roads. According to an estimate, 88% of the total arrivals in selected primary markets in Manipur, 70% in Meghalaya, 56% in Assam and 48% in Mizoram are carried on head load by the producers. The average distance covered varies from 5-10 KM. Road transport is the primary mode of transport from the producer's yard to the primary, secondary and terminal markets. Storage facilities in the rural areas and in the primary markets are either absent or insufficient. In Mizoram and Arunachal Pradesh, such facilities do not practically exist. In Assam, Manipur and Tripura, the storage facilities available are predominantly "katcha". Only in Meghalaya "pucca" storage facilities are available in large number of primary markets.
Post harvest handling which are facilitating functions like sorting, grading and standardisation, packaging, post harvest treatments etc. are not commonly practised. All these factors impact the shelf life in storage and long distant transportation. The losses in transit is estimated to be 35-51% in case of fruits and vegetables.
Market Regulation in Meghalaya
The State Agricultural Produce Marketing Act was enacted in the year 1980 and the State Agricultural Marketing Board was set up in 1983, to develop marketing infra structural facilities and to provide marketing support to the farmers in the State. In the year 1991, with the assistance of the Centre for Agricultural Marketing, Government of India located at Jaipur, detailed survey was conducted and a project profile for development of marketing infrastructure in Meghalaya was prepared. Accordingly, it was proposed to set up secondary markets in each District in the State which are called Wholesale Regulated Market. Thus, land was made available at Mawiong in the East Khasi-Hills District, Garobadha in the West Garo Hills District and Williamnagar in the East Garo Hills District. For more information visit
Meghalaya State Agricultural Marketing Portal