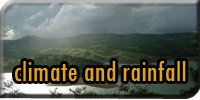 Climate And Rainfall
The climate of Meghalaya varies with the altitude. The climate of Khasi and Jaintia Hills is uniquely pleasant and bracing. It is neither too warm in summer nor too cold in winter, but over the plains of Garo Hills, the climate is warm and humid, except in winter. True to its name, the Meghalaya sky seldom remains free of clouds. The average annual rainfall is about 1,150 cm.
Flood affected areas are mostly on the low altitude areas, bordering Assam and the international border (India-Bangladesh). Flash floods have become a regular feature in these areas, due to massive deforestation, unchecked jhum cultivation. The flood water carries huge amount of hill sand, stone, logs and trees, which are deposited in agricultural fields due to inundation of banks in the foot hills, thus causing immense damage to crops.
The key to the health of the farm sector in the state lies in the health of the forest cover in the state. Every peak, every square inch of the upper range of the hills need to be under mixed forest cover to protect the soil from leaching and erosion to help regulate and decrease the fury of streams and rivulets during the monsoon season.
Vegetation also help to retain soil moisture and ooze it out during the lean winter months to balance vegetative stress caused by mono cropping in the valley; to bestow various other advantage to help maintain the fragile eco-balance. This will ensure continuous cultivation of crops in the farm sector.