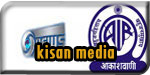 Kisan Media
Kisan TV Channel (Doordarshan)
A new channel under the name Kisan Channel has been started by the Doordarshan in association with the Ministry of Agriculture, Government of India. The new Channel is based on a new concept of narrow-casting where the programme will be based on area specific needs of the farmers. This huge and significant task could be taken up successfully only with the cooperation of all the Departments which are related to the activities of Agriculture. Through this channel, the Doordarshan will telecast from Doordarshan Kendra Shillong area specific programmes as per the requirements of the farmers of the area. The Department have a very important role with regards to recommendations of programmes for the purpose.
Kisan Vani (All India Radio)
The A.I.R. (F.M. Station) of Jaintia Hills District, Jowai has been selected for launching of the 2nd phase of Kisan Vani which is a special Agricultural Programme on All India Radio and also a part of the Union Ministry of Agriculture initiative of Mass media support to Agriculture Extension. The launching of the programme has been proposed by the Government of India to take place on the 1st April 2004. Necessary steps have been taken by the Department to formulate the programme to be broadcasted from the 1st of April 2004 and onwards.
Kissan News
For latest news please visit
here