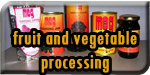 Fruit and Vegetable Processing
Pickles
Pickles may be prepared from un-ripe fruits or vegetables or a mixture of both according to one's liking.
Curing of Fruits / Vegetables:
&nbspDissolve 360 gms common salt in 1640 ml of water (18% salt solution) and after filter in a muslin cloth, then add 2 gms sodium benzoate and 5 gms turmeric powder and stir well. Place 1 kg of the cut fruits/ vegetables in suitable containers having lids, fill in with the above prepared solution, close the containers properly and allow to cure for a minimum period of 2 (two) weeks time.
Recipe:
1 kg fruit/ vegetables.
10 gms sarso.
10 gms dhania.
10 gms methi.
10 gms kala jeera.
10 gms sauff.
10 gms ajwain.
30 gms chilli powder.
750 ml mustard oil.
After curing period is over, drain off the solution properly from the fruits/vegetables and mix with the already roasted and ground spices, then place the fruits/vegetables in sterilized bottles and fill in with pre cooked and cooled mustard oil and seal properly.