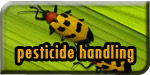 Instructions for proper use of PESTICIDES
Following instructions should be observed in handling and using pesticides
Always read the label carefully making a special note of the precautions and first aid measures.
Keep pesticides in their original labeled containers.
Store pesticides under lock and key in a safe place and out of the reach of children, irresponsible person and pets.
Wear appropriate protection appliance like masks, gloves, goggles and apron while using pesticides.
Observe the recommended withholding period.
Wash well after handling pesticides.
Avoid harm to beneficial species like pollinators, parasites and predators of pests, by timing the application suitably.
Use separate equipments for herbicides.
Use pesticides mixtures only after making sure that the mixture is not phytotoxic and the activity of chemicals are not reduced.
Store pesticides away from heat and moisture.
Dispose of empty containers in such a way that they do not pose a hazard to human, animals and plants.
If symptoms of illness occur during or shortly after spraying or dusting, call a physician or get the patient to the nearest hospital immediately.
Consult a medical practitioner before embarking on large scale application, so that in case of an accident, he will have the necessary antidotes and other facilities to treat the patient.
Never store pesticides near food stuff and feed materials or medicine.
Do not use the empty containers of pesticides for any other purpose than for storing pesticides.
Do not tear open the pesticide bag but cut them with a knife or blade.
Do not use leaky or defective equipment.
Do not open containers or mix pesticides indoors or in ill ventilated places or in areas of heavy breeze.
Do not drink, eat or smoke while handling or using pesticides.
Do not dust or spray against wind.
Do not contaminate tanks, ponds, wells and other sources of drinking water.
Do not treat quarters of pests, livestock or poultry and fish ponds when animals are present or their feed are exposed.
Do not give pesticides to any one in unlabelled containers.
Do not allow the operators to work for more than eight hours a day. Operators engaged in the handling of dangerous pesticides should be checked by a physician periodically.
Do not blow, suck or apply the mouth to any sprinkler, nozzle or other spraying equipments.
Do not keep your food and drinking water near the pesticides and in the area of operation.
Use Pesticides only when it is essential and in quantities recommended and as per the directions.
For more instructions on safe use of pesticides, please visit
Integrated Pest Management, Directorate of Plant Protection, Quarantine & Storage